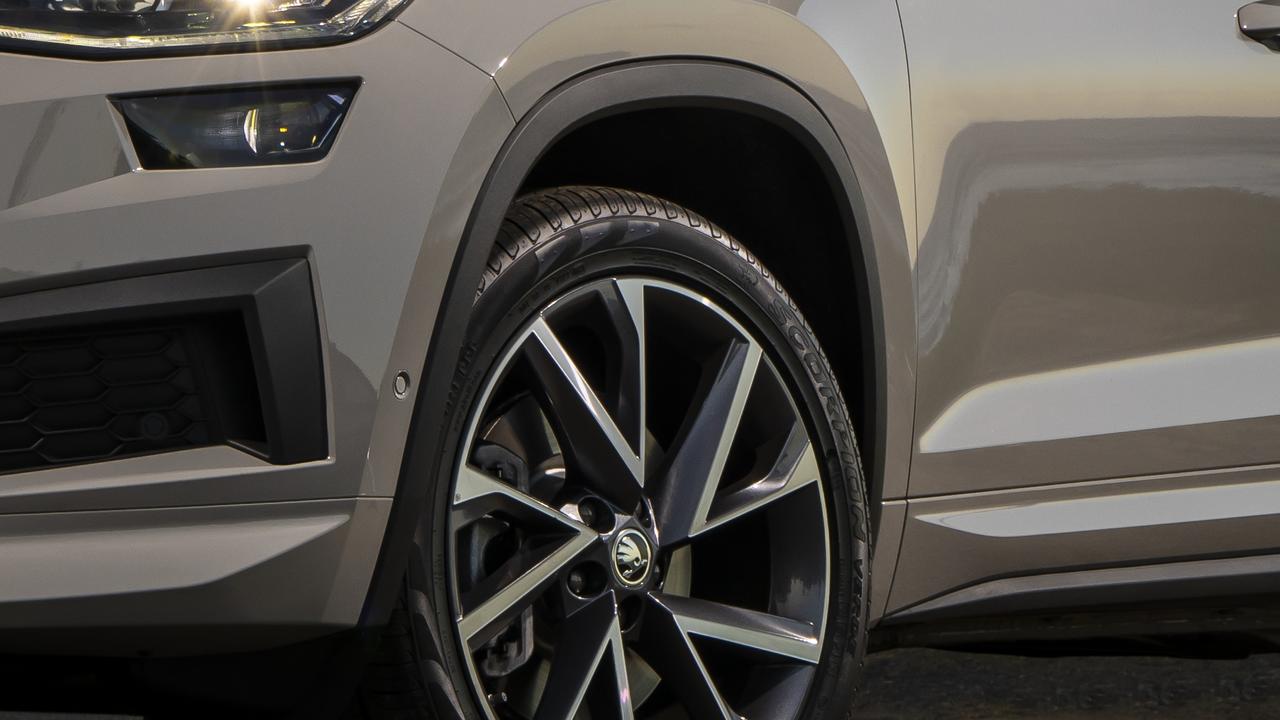 Skoda's flagship seven-seat Kodiaq straddles the medium and large SUV segments and offers intelligent use of space and strong driving dynamics.
Our family of four got a taste of the mid-range Sportline, but does the make and model still represent value and smarts?
FIRST IMPRESSIONS
Jul: I have a serious soft spot for the Kodiaq from Skoda.
Ian: Why?
Jul: It is difficult to identify the rules of attraction. It is imposing but not too big, stylish without forcing and living up to its advertising slogan "Simply Clever".
Ian: Well, pretty smart. It can accommodate about seven seats and offers reasonable performance. Skoda is still a fringe brand, so you feel less like a sheep than you would in a Toyota or Kia.
Jul: Our Kodiaq is the bad boy. Being the Sportline, it's black on black on black.
Ian: Like a middle-management mafioso who can't quite get a black Mercedes AMG for back-to-school yet.
Jul: If you want.
Ian: Goodies include Matrix LED headlights, animated rear turn signals, 20-inch alloys and black grille, roof rails, mirrors and badging.
Jul: What is all this costing me?
Ian: A reasonable $57,990 car, but Skoda's value isn't what it used to be. Option packs quickly add to the bill.
THE LIVING SPACE
Jul: It's really luxurious inside.
Ian: Due to the aforementioned options. It's $1900 to upgrade from Alcantara to leather sport seats with ventilation; the $1900 panoramic sunroof and a $3700 luxury package offer heated front and rear seats, a power passenger seat and advanced driver aids. Without the latter, the security kit is really lacking.
Jul: So what's the final bill?
Ian: Expect. There is more. Paint costs $700 and a $2900 tech pack adds adaptive chassis control, Canton audio, hands-free tailgate and park assist. Try $69,160 to drive away.
Jul: Is it Kodiaq RS money?
Ian: It's $74,990 with those options included, plus you get an extra 48kW from its 2.0-liter 180kW engine.
Jul: It's me sold. The Sportline is still charming. Ideal for having a digital dashboard, wireless CarPlay and Android Auto, wireless charging and a 9.2-inch touchscreen.
Ian: It's sporty. The steering wheel is chunky, there's faux carbon dash trim and racy red lighting on the driver display, doors and footwells.
Jul: There's an umbrella in the door, as well as handy luggage nets and massive storage compartments.
Ian: Not so clever, the center cup holders are too small for my coffee mug or sports bottle. On the plus side, there is good storage in the doors, which also house a small bin.
THE PATH
Jul: I'm waiting for Sport in Sportline.
Ian: To keep waiting. There's only 132 kW from the turbocharged four-cylinder petrol, and it has 1750 kg to displace.
Jul: It is an impressive cruiser. Quiet, comfortable and the radar cruise control works with the sound system to keep me happy.
Ian: I found the seats too firm, but the driver aids are subtly non-invasive. Its dual-clutch gearbox is super smooth when up to speed but jerky around town. It's also slow at the start, which surprised me more than once at crossroads.
Jul: No chance of a quick three-point turn, something moms need in school. There is a big delay between Drive and Reverse.
RACES
Ian: These are cost options, but the hands-free tailgate and bird's-eye camera are great for the supermarket.
Jul: The normal rear view camera is surprisingly low quality. The massive trunk makes up for it, and you can even stow a few shopping bags with all seven seats up.
SUNDAY RACE
Ian: He has impressive cornering skills. The optional Adaptive Drive Mode adjusts things like damping and steering in Sport Mode.
Jul: I love these driving modes. The ambient lighting becomes green in Eco, blue in Comfort and red in Sport. There's even a snow mode and everything turns cool blue. It tickles me.
Ian: It's great fun to throw around the corners and the gearbox is at its best at high speeds. The paddle shifters are a welcome bonus. Grip from the Pirelli tires is good, but they're quite skinny, so you feel harder bumps through them.
Jul: It's fun on back roads, but ours is priced so close to a Kodiaq RS that I'd pay the extra for more power and drama.
FAMILY
Ian: I'm afraid our children are being raised in a heated leather seat bubble.
Jul: They're spoiled in the middle seats, which recline, slide back and forth and have mini footrests. The sun blinds are practical, while the huge sunroof bathes the cabin in light.
Ian: Their own air conditioning is good, but do you know what's just not smart? No rear USB ports. For a family SUV? It just doesn't make sense.
Jul: It's also a bit of a mission to get to the two rear seats.
Iain: They are better for children. I'm six feet tall and my head is on the ceiling and my knees are stuck.
Jul: We average 8L/100km on the highway and 9.1L/100km in total. Not great as it needs 95 fuel, but at least an $1800 five-year service pack is decent value.
Ian: As for adventure, there's room for a lightweight off-roader. It tows 2000 kg but the weight of the downball is 80 kg.
THE VERDICT
Jul: The Kodiaq is striking to look at and gorgeous inside, but those options make it expensive compared to rivals from Kia, Hyundai and Mazda.
Ian: It's great to drive and look at, but it lacks standard safety equipment, there are no rear USB ports and it's pretty thirsty. It's not the smart, economical choice it once was.
SKODA KODIAQ SPORTLINE VITALS
THE PRICE From $57,990 by car
WARRANTY AND SERVICE Warranty 5 years/up to km, $1800 for 5 years
ENGINE 2.0 liter 4-cylinder turbo petrol, 132 kW and 320 Nm
SECURITY Nine airbags, automatic emergency braking, radar cruise control
THE THIRST 8.2L/100km
SPARE space saver
BOOT 270-765 liters
Originally published as 2022 Skoda Kodiaq Sportline review